Why advertise with Jobs in Planning?
To put your job ad in front of Planners whom you are not reaching with your ads on the large multi discipline job boards!
Most people in recruitment would agree that if you are serious about attracting the best people you possibly can, then you need to present your job to as many relevant potential candidates as possible.
The problem however, is that a huge proportion of jobs seekers are what's known as "passive job seekers", which means they don't browse the big multi discipline job boards regularly, if at all.
A recent survey* of job seeker behaviour showed that a massive 34%-45% of people working in professional disciplines are passive job seekers. In these same disciplines 34%-57% were not planning on changing jobs and only 9%-24% were active job seekers.
Given this information it is clear that an advert on one or two of the big multi discipline job boards does not constitute a thorough recruitment campaign.
An ad with Jobs in Planning complements your other recruitment advertising and increases your chances of reaching the right people. Our weekly email bulletins deliver your job ad direct to a targeted audience of over 3000 Planners, many of these people are passive job seekers who use Jobs in Planning as a convenient way to keep an eye out for new opportunities.
*Extensive survey conducted by Sweeney Research for Hudson, 2008.

Guaranteed To Increase Your Reach
Jobs in Planning is guaranteed to increase the reach of your advertising campaign, presenting your employment opportunity to a targeted audience of thousands of Planners, many of whom you would not reach through traditional print media and 'job boards'.
Preview the bulletin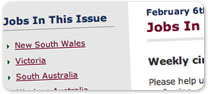 ---
Current Rates
Effective 1 July 2008
Casual Advertisements
Each job advertisement published by us is charged at $144 + GST (AUD)
Value Packs
Savings for customers who will place 5 or more advertisements in a 12 month period. More info
---
Quick Links