Browse Planning Jobs
All positions listed in the last four weeks can be viewed on this web site (unless the advertiser has requested the job to be removed). Browse jobs by location, listed in order of posting, most recent first, or search jobs by keyword.
NB: If responding to advertisements by telephone, please be mindful of the advertisers time zone.
Here's what arrives in your inbox when you subscribe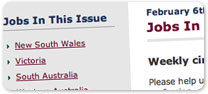 OR