Browse Planning Jobs - Australia
Location:

Goulburn, New South Wales, Australia
Posted:

27th May
Advertiser:

Goulburn Mulwaree Council

Forget about sitting in traffic for hours and paying for parking. It's all about balance and in Goulburn, we believe in a great work-life balance. Just two hours from Sydney, less than one hour from Canberra and yet just over one and half hours to the coast, right now in Goulburn, your next career opportunity awaits with Goulburn Mulwaree Council.
Location:

Penrith, New South Wales, Australia
Posted:

14th May
Advertiser:

Penrith City Council

- 492941
Permanent Full-Time

Do you want to part of a diverse planning team contributing to growing Greater Penrith as a Metropolitan Cluster within the Western Sydney Aerotropolis? Penrith is located at the point where Sydney's east west connection, Australia's most significant economic corridor, crosses the north south growth belt.
Here's what arrives in your inbox when you subscribe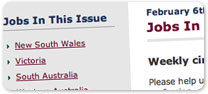 OR