Browse Planning Jobs - Australia
Location:

Wodonga, Victoria, Australia
Posted:

28th March
Advertiser:

Wodonga Council
Salary starting at $82,620.20 per annum plus superannuation
Full-time role with genuine work-life balance and flexible working arrangements
Assess and determine a wide variety of planning permit applications
We have an exciting opportunity for a Planner to join our team in undertaking the assessment of planning permit applications for new development proposals and changes to land use activities.
Location:

Sydney CBD, New South Wales, Australia
Posted:

9th March
Advertiser:

City of Sydney

- 9342
$151k - $172k plus Super
Permanent - Full Time
Option to work under a 19 day month arrangement with ability to work from home some of the time
The City of Sydney is committed to excellence in all our planning/development decisions and the design of the buildings and facilities we provide to our ratepayers and the wider community. It's not just about the way the City looks – we strive to make sure projects are sensitive to the surrounding environment, socially equitable and sustainable.
To meet this challenge we are seeking an experience professional to join our Planning Assessments team, to lead and manage a team of planners who are responsible for the assessment of development applications and related applications.
Here's what arrives in your inbox when you subscribe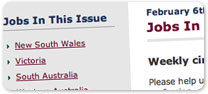 OR