Browse Planning Jobs - Australia
Location:

Sydney CBD, New South Wales, Australia
Posted:

10th August
Advertiser:

City of Sydney

- 7753

The City is committed to excellence in all our planning/development decisions and the design of the buildings and facilities we provide to our ratepayers and the wider community.
It's not just about the way the city looks – we strive to make sure projects are sensitive to the surrounding environment, socially equitable and sustainable.
To meet this challenge we are seeking two highly skilled and motivated Senior Planners to join our Planning Assessments team...
Here's what arrives in your inbox when you subscribe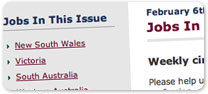 OR